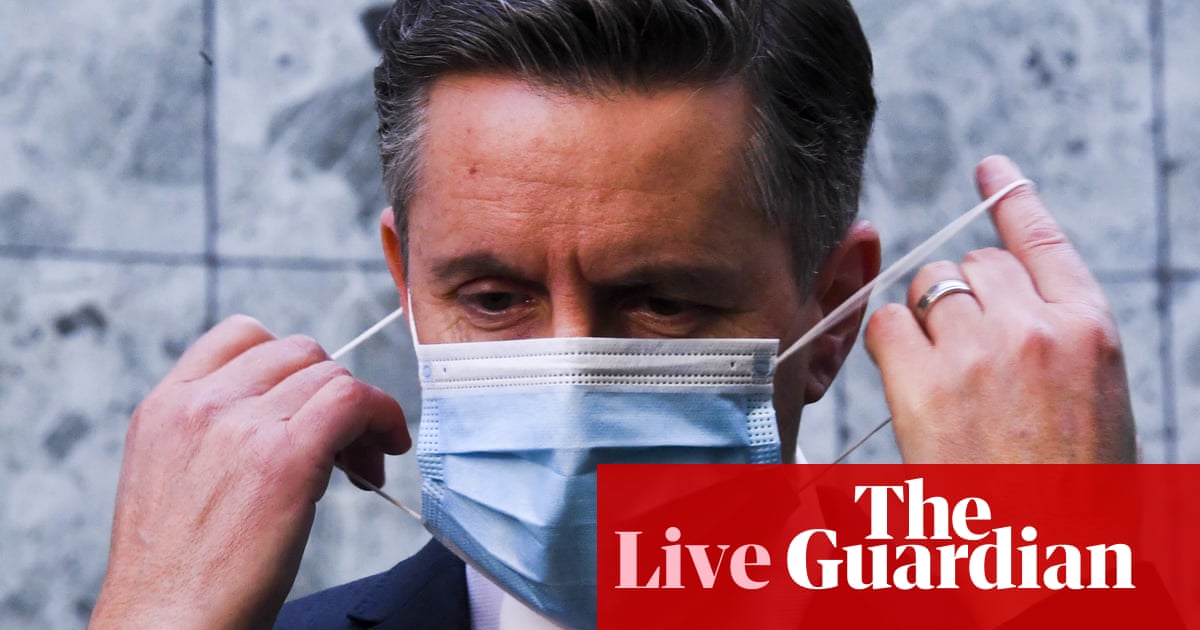 Mark Butler says we need to prepare ourselves for case numbers to increase again, and encourages people to get a vaccine booster if they haven't yet (booster rates are still far, far lower than double doses):
If you've had two doses, and even if you've had a case of Covid BA.1, you are potentially susceptible to reinfection over coming months. All of the health authorities do expect there to be a third wave overcoming months. I think the impact on our hospital system, whether there's a greater severity, is still not really well known. We're still trying to understand this subvariant … But we do need to prepare ourselves for another wave of increased cases.
Australia's bushfire season now lasts for 130 days a year and has lengthened by almost a month in the past four decades, according to new research.
In the south-east of the country, where forests and communities are still recovering from the unprecedented Black Summer bushfires of 2019 and 2020, there are now 11 extra days where the risk of fire is at its most extreme, compared with the late 1970s.
Even if global heating can be kept to 1.5C – the most ambitious temperature goal under international climate agreements – Australia's fire season will continue to lengthen, the study published in the Reviews of Geophysics found.
Dr Pep Canadell, a climate scientist at CSIRO and a co-author of the study, said:
These numbers are confronting. We no longer have a stable fire regime.
Read the full story here:
Mark Butler on ending of pandemic leave payments
Here's a little more from health minister Mark Butler's interview on ABC radio this morning, captured by AAP.
Pandemic leave payments have ended as of today but infected people must still follow directions to isolate at home for a week.
Butler said the federal government doesn't have the financial capacity to continue funding what were intended as emergency payments. He told ABC radio:
We're going to have to start to moving toward more normal programs that support the Australian community and people have been on notice about that for some time.
Asked if people without sick leave would go to work with Covid if they didn't have access to the government support measure, Butler said he "hoped not".
We can't continue forever to fund from the budget the gaps in the labor market that exist.
Our intrepid economics correspondent Peter Hannam flagged this week that house prices were going to take a tumble. So they've.
CoreLogic released its home value index this morning, showing a second consecutive month of value declines in June, down 0.6%, to be 0.2% lower over the June quarter.
That's been driven partly by Sydney house prices dropping by 1.6% last month (and 2.8% over the quarter) and dropping in Melbourne by 1.1% over the month.
Housing values were also down in Hobart and regional Victoria.
This edition of the index has captured the Reserve Bank's 50 basis points increase in the cash rate, its second hike in as many months.
Commonwealth Bank's head of Australian economics Gareth Aird told AAP:
Home prices have begun their descent.
He expects a further 0.9% decline in national home prices for June.
The home value index posted its first fall since September 2020 in May, led by declines in Sydney, Melbourne and Australia's second most expensive property market Canberra.
Still, over the past year, national house prices were up 14.1%.
CoreLogic's research director Tim Lawless argues it's not just interest rates that are making their mark. Since prices peaked in May 2021, consumer sentiment has soured, hitting its lowest level since April 2020 and the early stages of the Covid-19 pandemic.
The mass release of balloons will be a thing of the past in Queensland and days could be numbered for takeaway coffee cups as the state moves ahead with a ban on plastics, AAP reports.
Polystyrene packing for peanuts, plastic-stemmed cotton buds and microbeads will all be banished from September 2023 under a new five-year plan.
The balloon ban will target the mass release of lighter-than-air varieties from next year, while new minimum standards will be introduced for heavy plastic bags.
They'll soon have to be tested for reusability and how they can ultimately be recycled, environment minister Meaghan Scanlon said.
More than 90% of Queenslanders back tightening restrictions on single-use plastics, government survey results show.
The state began phasing out lightweight plastic shopping bags in 2018 and last year outlawed a range of products including straws, stirrers and expanded polystyrene.
Scanlon:
It's great to see so many businesses already taking voluntary measures and going beyond our bans. it's time to support those voluntary commitments and strengthen our actions in the fight against plastic pollution.

We understand these changes can have an impact on businesses and we'll work with them to ensure they're ready.
The roadmap also aims to phase out other single-use plastics, including disposable coffee cups.
An innovation challenge will get under way soon to investigate potential replacements and the state hopes to work with other jurisdictions with an eye to a national approach in coming years.
Potential bans on bait bags, bread bag tags, takeaway containers and sauce sachets will also be investigated.
Climate activist group Blockade Australia has called off its organized protests in NSW, AAP reports.
The group spent Monday and Tuesday protesting in Sydney's CBD, blocking traffic, which resulted in multiple arrests. On Wednesday a picnic held in Tempe by the activists as a "rest and recharge" event was also targeted by police.
Organising activists said on their Telegram channel yesterday:
we've made the hard choice to end the mobilization and wait until next time when we're bigger and stronger.

We call on people to continue to take disruptive climate action in any way they can.
The group thanked those who'd taken part in the disruptions on Monday and Tuesday, saying:
we've endured extreme state repression. it's challenged our plans and further exposed what Australia will do to protect its own interest. we're tired but not broken. Moved by all the solidarity and support.
NSW premier Dominic Perrottet has called the activists "bloody idiots", saying their actions didn't aid their cause.
Protesters who disrupt major roadways, ports and railroads can be charged with newly legislated penalties of up to two years in prison and a fine of $22,000.
A total of 32 people have been arrested since NSW police set up Strike Force Guard in March to prevent, investigate and disrupt protests.
Australia 'deeply concerned by continuing erosion of Hong Kong's rights'
Penny Wong, minister for foreign affairs, released a statement last nite saying Australia remains "deeply concerned" by the continuing erosion of Hong Kong's rights.
This came as China's President Xi Jinping arrived in Hong Kong to attend the inauguration of the city's new chief executive. The 25th anniversary of Britain returning Hong Kong to Chinese rule.
Wong:
Australia remains deeply concerned by the continuing erosion of Hong Kong's rights, freedoms and autonomy, two years since the imposition of the National Security Law.

The National Security Law has been applied broadly to arrest or pressure pro-democracy figures, opposition groups, the media, trade unions and civil society. The electoral reforms imposed by Beijing in 2021 have further eroded Hong Kong's democratic governance.

We urge the Chinese Government and Hong Kong authorities to uphold and protect those elements which have been so crucial to Hong Kong's success, including its high degree of autonomy, the rights and freedoms guaranteed by the Basic Law and the Sino-British Declaration, to which Beijing committed.

Many Australians know and love the city of Hong Kong and its people. Friday marks the 25th anniversary of the handover of Hong Kong. We reaffirm the importance of those freedoms that have enabled its prosperity and stability.
Helen Davidson has more on the events that precipitated the statement and the context to Xi's visit here:
Sydney commuters are in for a "very messy day" as the NSW rail union pushes ahead with industrial action that'll take out 70% of the train fleet, AAP reports.
The Rail, Tram and Bus Union has been locked in long-running stoush with the Perrottet government over a new Korean-made Intercity fleet, which it says is unsafe.
While the government has signalled it could be prepared to spend $264m to modify the fleet, the union says it's refused to sign an agreement confirming it'll fix the safety issues raised by train drivers. The union said on Friday:
This will be the fourth time the government has offered to make the changes, announced the changes. Then backtracked as a result of internal politics.
Rail, Tram and Bus Union NSW secretary Alex Claassens said during a meeting with the government yesterday, elements of the modification offer had been taken off the table:
I'm just not sure where we go from here but our members are resolute. we're going to continue fighting to get these trains made safe. We'll do whatever it takes to make that happen.
Protected industrial action planned for today is going ahead, which will see train drivers refuse to operate foreign or privately made trains. This means only 30% of Sydney Trains and NSW TrainLink services will be operating.
Claassens:
It's going to be a very messy day. It'll be a weekend timetable with other trains taken out of it.
Transport minister David Elliott said yesterday that the government had offered railroad workers $3,000 bonuses:
The families of the railroad workers right now could be having $3,000 deposited in their account, instead of having that money spent on modifying perfectly good trains.
But Claassens described the payments offered to railroad workers, to get the fleet on the tracks without modifications, as "bribes".
Sydney commuters have been advised to expect significant train delays and cancellations. A flow-on effect is likely to impact people traveling to Sydney airport and on buses.
Acting PM on cost of living: wage boost a 'step in the right direction'
While we were listening to the health minister, the acting prime minister Richard Marles was on ABC News Breakfast, talking about the cost of living. He doesn't offer much that we haven't already heard on this issue over the last months, to be honest – it's a challenging time, wages have stagnated, it's going to take time to fix. Here's a sample:
There are a lot of challenges that are facing the nation, as you've articulated. This is a difficult problem to work through. A starting point for the government was to focus on wages because wages had been flatlining over the last nine years under the Liberals. We'd flatlining productivity under the Liberal government and the fact that the minimum wage has gone up today, which is a result of the government arguing for exactly that wage increase with the Fair Work Commission, that's a really important step for our lowest paid. it'll be the better part of $2,000 a year for those who need that money the most and those people who'd worked so hard to get the country through the pandemic.

It doesn't solve everything and we're not pretending it does but it's a step in the right direction and what you know with a Labor government is we'll fight for wage increases and we're going to be doing what we can to address the cost of living challenges.
Mark Butler won't say if he supports Medicare-funded abortion
Mark Butler is asked whether he supports Medicare-funded abortion. He doesn't directly answer the question. Instead of yes (or, indeed, no), he says this:
Well, I think you're right to point out that there are very different arrangements and these services are largely provided for free of charge. And there are differences not only between states. Obviously between regional communities who'll always have more difficulty accessing health services than the big cities.

You know, the women's health strategy that was put in place in 2020 identifies equitable access to reproductive health including termination services, game measurement. I'm working with Ged Kearney on ways in which we can actually put those words into practice.
Telehealth change
He's now being asked about the government scrapping Medicare rebates for telehealth consultations longer than 20 minutes. The Australian Medical Association has said this will disadvantage vulnerable Australians.

Mark Butler:
What we're saying is is a decision of the former government that telephone consults for a very long consult. Over 20 minutes, with your doctor will end on the 30th of June. That was originally intended to end last year but there was a six-month extension granted by the by the former government. Now it's important to say that if you've a longer consult with your GP remotely, you can still do that over video. There are very clear cases for for a for a better clinical outcome if you can actually see your doctor.
Mark Butler says we need to prepare ourselves for case numbers to increase again. Encourages people to get a vaccine booster if they haven't yet (booster rates are still far, far lower than double doses):
If you've had two doses. Even if you've had a case of Covid BA.1, you're potentially susceptible to reinfection over coming months. All of the health authorities do expect there to be a third wave overcoming months. I think the impact on our hospital system, whether there's a greater severity, is still not really well known. We're still trying to understand this subvariant …. We do need to prepare ourselves for another wave of increased cases.
'We're still dealing with a very serious phase of the pandemic'
Mark Butler is asked why he hasn't requested an investigation into the vaccine rollout. He says:
I want to be looking forward. I want to make sure that we're prepared overcoming satellite maps for the rest of this year and into 2023. Given what we can at least predict is going to happen with this this virus mutating and what's going to happen in the vaccine and treatments market. There will of course, come a time, as I've said on a number of occasions, to look back and examine. Very broadly, our pandemic response for that time isn't now. We're still dealing with a very serious phase of the pandemic.
Vaccines must be 'fit for purpose', minister says
Health minister Mark Butler is speaking on ABC RN about the future of vaccine availability in Australia. He says he wants to ensure that Australia's arrangements are "fit for purpose":
I'm absolutely committed to making sure that we remain on the front foot, getting priority access to the newest versions of vaccines and treatments for the Australian people over the coming 12 to 18 months …

I've asked Jane Halton to conduct to make sure that the arrangements of the former government structure to see vaccines and treatments coming into Australia over the coming months are going to remain fit for purpose. As I said, this virus is mutating and also new vaccines are coming on to the market as well.
It's Friday, huzzah! That doesn't mean the news has stopped, though.
Prime minister Anthony Albanese is in France where he'll meet with the French president, Emmanuel Macron, later today in an attempt to mend the rift between the two countries after the Morrison government unceremoniously dumped a $90bn submarine deal with France last year. We'll bring you more on that as it develops.
Back home, Chris Bowen, the climate change minister, is to announce today that Prof Ian Chubb, a neuroscientist and former vice-chancellor of the Australian National University, will lead a six-month review of the carbon credit scheme, after a whistleblower described it as "largely a sham" and waste of taxpayer money.
Pandemic leave payments will cease from today, which means that people who contract Covid-19 or have to miss work to go get tested, care for a loved one or isolate, will no longer be eligible for the $750 payment. The measure was introduced by the previous federal government, who announced last September that it'd cease at the end of this financial year – a decision the Labor government has decided to uphold.
Federal health minister Mark Butler will meet with his state and territory counterparts later today, after the government ordered a review into the previous government's handling of vaccine contracts. They're also expected to talk about ways for more people to access antiviral drugs, particularly those people in vulnerable groups.
There's stacks more happening today so stay tuned. As always, if you see something you think needs my attention, you can email me at [email protected] or find me on Twitter: @gingerandhoney.
Let's get this done.
You may also like